Free CCNA Workbook will be offering a Virtual CCNA Boot Camp during the second week of July 2016 (July 11 – 15) and we are actively seeking candidates interested in this CCIE Instructor led virtual boot camp to be provided via WebEX.
Our instructor led CCNA Boot Camp includes a specialized lab workbook to use with student lab pods to provide a unique hands approach that ensures student collaboration all within the convenience of your own home office.
Lab Workbook
The Virtual CCNA Boot Camp lab workbook is provided to students in PDF format which is formatted in a way to ensue optimal hands on training and verification with short quizzes at the end of each lab.
The Lab Workbook covers all major areas of the CCNA composite exam blueprint. Our workbook gives students hands on training in multiple technologies includes but not limited to general router/switch management, cli security, ssh, vlans, vtp, spanning tree, port security, static routing, eigrp, ospf, access-lists, nat, dhcp and more!
The workbook is tailored towards the virtual boot camp pods to encourage student collaboration in a way to simulate life like scenarios where communication among multiple engineers and engineering groups is required for verification. The more involved a student is with engineering and collaboration, the more likely they are to retain the knowledge they used to resolve those problems which is why we've developed our workbook to simulate this type of environment.
Student Pods
Each student will have their very own Cisco Lab pod which consist of five Cisco 2811 Routers running 15.1 IOS and four Cisco 3560 24 Port Switches running 12.2(58)SE10.
Students will have unrestricted telnet access to the console ports of each lab device within their individually assigned pod along with the capability to control power to each lab device independently via command line.
Within each pod, Router 1 will be connected to Backbone Router 1 and Router 2 will be connected to Backbone Router 2 via T1 up-links to allow for inter-pod communication.
Each pod will have access to the common lab server at 10.250.10.10 which provides TFTP, DNS and TFTP Services for each pod.
Provided below is a similar example of a POD that student(s) will have remote access to.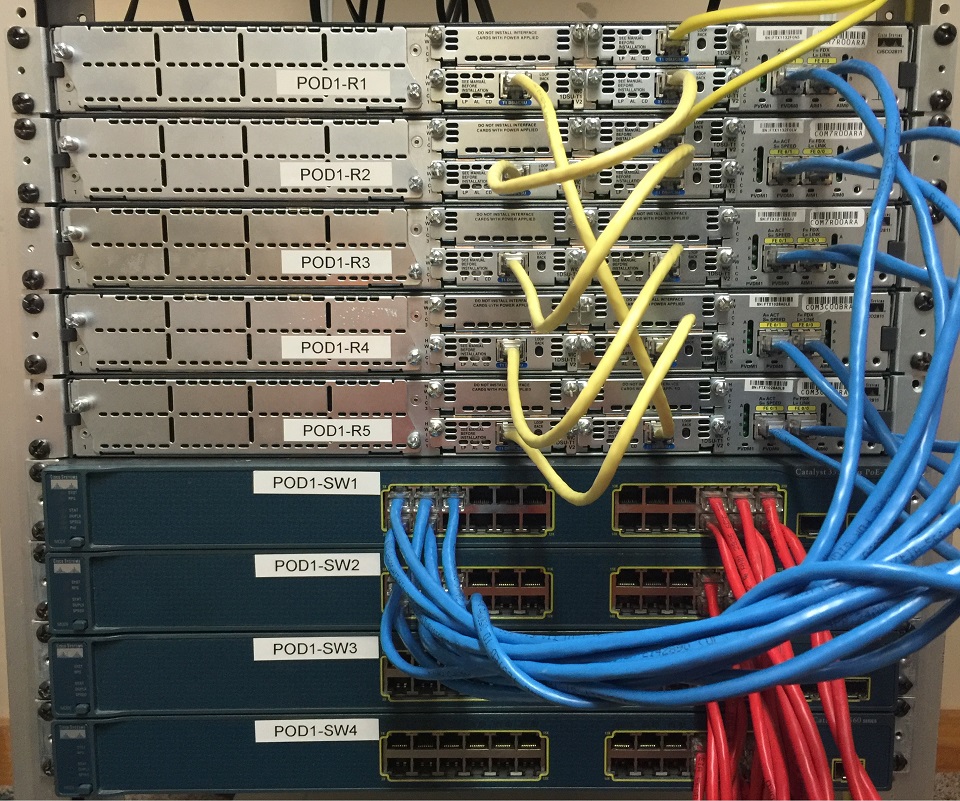 Pod Topology
The topology used by each POD is very similar to lab topologies used by countless vendors as well as the official CCIE Routing and Switching v5 topology. Five routers in a T1 Ring with Ethernet connectivity to SW1 and SW2.
All switches are in a full mesh to provide optimal lab possibilities for switching, spanning-tree and more. The Visio topology for the PODs can be download using the following link;
Pricing and Reservations
Free CCNA Workbook is currently accepting reservations for the Virtual CCNA Boot Camp to be hosted July 11th through the 15th. During this time students will have full unrestricted lab access started July 11th and ending at midnight of July 16th Eastern Standard Time.
The cost for the Virtual CCNA Boot Camp is $999.95 and must be paid in full via PayPal 72 hours prior to starting the class. Cancellation and refund requests must be made 3 days in advanced prior to the class starting. Paypal plans available and seats are currently limited to 8 Students. Reservations are first come first serve.
Students are required to have headphones and microphone for WebEX Communication and students are encouraged to use a web cam if they have it.
Free CCNA Workbook reserves the right to cancel any scheduled bootcamp(s) and provide full refunds at any time for any reason.
To reserve your seat, contact us today via email at bootcamp at freeccnaworkbook dot com
At this time Free CCNA Workbook does NOT accept Cisco Learning Credits (CLC's).